Name: Keahi
Nickname: N/A
ID: 621
Owner:Returu
Group: Chronocompass
Gift Art Rules:Tag me, Keep to personalities, and feel free to ask me any questions
Rider:
Sex: Male
Element: Fire/Jungle
Physical Traits: Reptilian Snout, Thorned Crest, Quadruped Body, Smooth Scales, Leather Wings, Reptilian Limbs, Whip Tail
Display Traits: Hailstorm, False Eyes, Magma, Pangare, Foliage
Modifier Traits: Spaded Tail, Dorsal Fin, Dorsal Spines, Antennae
Mutations: N/A
Recessive Genes: N/A

Size: Medium
Flighted: Flighted
Magic: Untrained
Grand Display: Completed
Deviantart Mirror
Children | Grandchildren
Events & Challenges
Level: 0
Reference Sheet: https://toyhou.se/6991366.keahi-621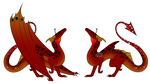 Health: Full(100/100)
Status: Healthy
Equipment: N/A
Moves: N/A

STR 10 | DEF 5 | INT 15| WILL 10 | DEX 10

Personality: Fire and poison, Keahi knows thats what his rider needs, whether or not she'll admit it, and thats what he has. Stubborn, fierce, but intelligent enough to match his rider, he would happily burn down the world for her. He is fairly independent and knows that following her into the Quetzalcoatl city is not a good idea, but he uses his free time to hunt for other plants or items with properties that his rider may find useful.. or to set things on fire.
Origin: www.deviantart.com/comments/1/…
╭⎼⎼⎼⎼ SS:Hephaestus 287
Sire: Unknown
╰⎼⎼⎼⎼ SD: Unknown
╭⎼⎼⎼⎼⎼ DS: Unknown
Dam:Chrysanthemum 144
╰⎼⎼⎼⎼⎼ DD: Unknown
Art Credits:Returu